Olitema is Technical Sponsor of the Italian Off-Road Speed Championship 2022
Olitema is Technical Sponsor of the Italian Off-Road Speed Championship 2022
The partnership between the Italian green lubricants brand and the Italian Off-Road Federation is strengthened. Olitema, in fact, is for 2022 the main Technical Sponsor of the CIVF by FiF, a championship that sees 4×4 prototypes compete on six spectacular off-road circuits
The year 2022 sees a further strengthening of the relationship between Olitema, an Italian company specializing in the production of green lubricants, and the Italian Off-road Federation. In addition to being partners in the promotion of an environmentally conscious driving style, Olitema and the FiF have also joined forces in the development of a joint project related to the Italian Fuoristrada Speed Championship. This year there are more than twenty prototypes divided into different Groups that will do battle in six spectacular events with a wide involvement of the public and industry professionals.
To the top three crews in each race, a special Olitema-branded prize.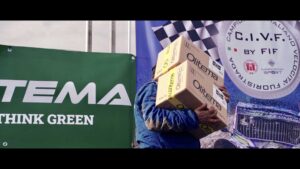 The calendar of the CIVF by FiF 2022

– April 2/3, 1st Ciglione Trophy in Malpensa (VA);
– May 7/8, 1st Cadrezzate Cup, in Cadrezzate in the province of Varese;
– June 11/12, 2nd Massimiliano Oppici Memorial Trophy in Rubbiano di Solignano (PR);
– July 2/3, 2nd Coppa Città di Chiusdino, in Chiusdino in the province of Siena;
– Sept. 3/4, 35th Veglio 4×4 Trophy, in Veglio Mosso in the province of Biella;
–Oct. 8/9, 3rd Oppici Memorial Reverse Trophy in Rubbiano di Solignano (PR).